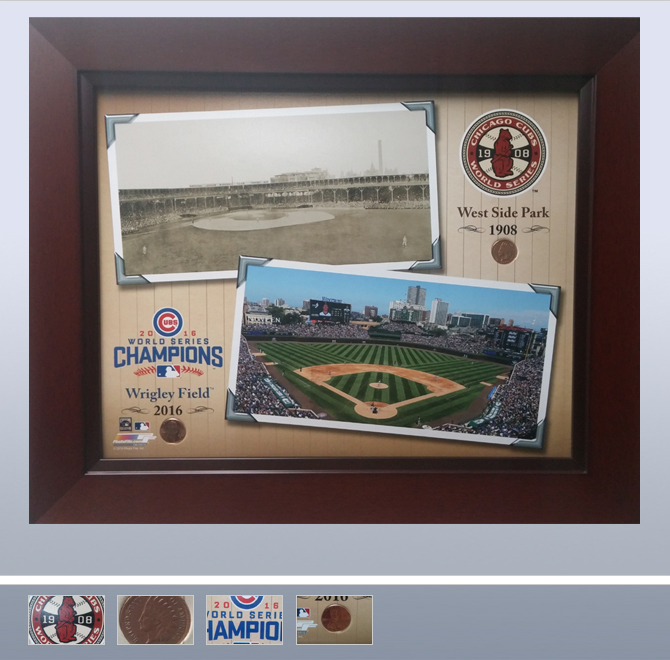 Chicago Cubs West Side Park & Wrigley Field
The Chicago Cubs won back-to-back World Series championships in 1907 and 1908, becoming the first major league team to play in three consecutive World Series, and the first to win it twice. Most recently, the Cubs won the 2016 National League Championship Series and 2016 World Series, which ended a 71-year National League pennant drought and a 108-year World Series championship drought, both of which are record droughts in Major League Baseball.
West Side Park, where the franchise played for nearly a quarter century, was the home of the first two world champion Cubs teams (1907 and 1908), the team that posted the best winning percentage in Major League Baseball history and won the most games in National League history (1906), the only cross-town World Series in Chicago (1906), and the immortalized Tinker to Evers to Chance double-play combo.
Wrigley Field was originally known as Weeghman Park and the Cubs played their first home game at the park on April 20, 1916, defeating the Cincinnati Reds with a score of 7–6 in 11 innings. Chewing gum magnate William Wrigley Jr. of the Wrigley Company acquired complete control of the Cubs in 1921. It was named Cubs Park from 1920 to 1926, before being renamed Wrigley Field in 1927.
Handsomely framed this historic piece contains 2 original coins from 1908 and 2016 - both years the Chicago Cubs won a World Series.
Framed Dimensions: 14 5/16 x 17 5/16
Item: FCubsWF
Price: