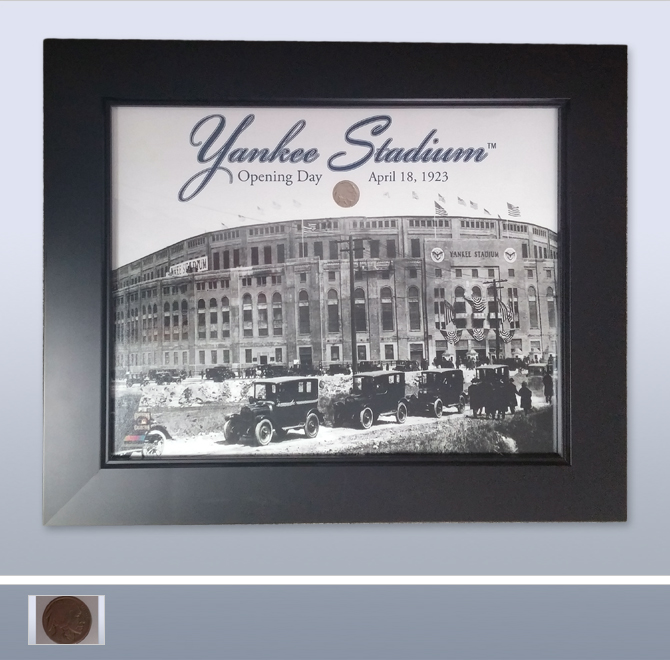 1923 Yankee Stadium
Yankee Stadium officially opened on Wednesday, April 18, 1923, with the Yankees' first home game, against the Boston Red Sox. According to the New York Evening Telegram, "everything smelled of ... fresh paint, fresh plaster and fresh grass." At 3 pm, the composer-conductor John Philip Sousa led the Seventh ("Silk-Stocking") Regiment Band in playing The Star-Spangled Banner. After a parade of the players and dignitaries, Babe Ruth was presented with a case containing a symbolically big bat. New York Governor Al Smith threw out the first pitch directly into the glove of catcher Wally Schang rather than the customary couple of feet wide. The Yankees went on to defeat Ruth's former team, the Boston Red Sox, by a score of 4–1, with Ruth hitting a three-run home run into the right-field stands. Asked later for his opinion of the stadium, he replied, "Some ball yard."
Yankee Stadium was the home ballpark of the New York Yankees, one of the city's Major League Baseball (MLB) franchises, from 1923 to 1973 and from 1976 to 2008. The stadium hosted 6,581 Yankees regular season home games during its 85-year history. It was also the former home of the New York Giants football team from 1956 through the first part of the 1973-74 football season. The stadium's nickname, "The House That Ruth Built", is derived from Babe Ruth, the legendary baseball superstar whose prime years coincided with the stadium's opening and the beginning of the Yankees' winning history. It has also been known as "The Big Ballpark in The Bronx," "The Stadium," and "The Cathedral of Baseball."
Featuring a photo taken on Yankee Stadium's opening day in 1923 this historic piece also includes a genuine 1923 buffalo nickel and a solid wood frame.
Photo Dimensions: 11x14
Framed Dimensions: 14 5/16 x 17 5/16
Item: F1923YS
Price: