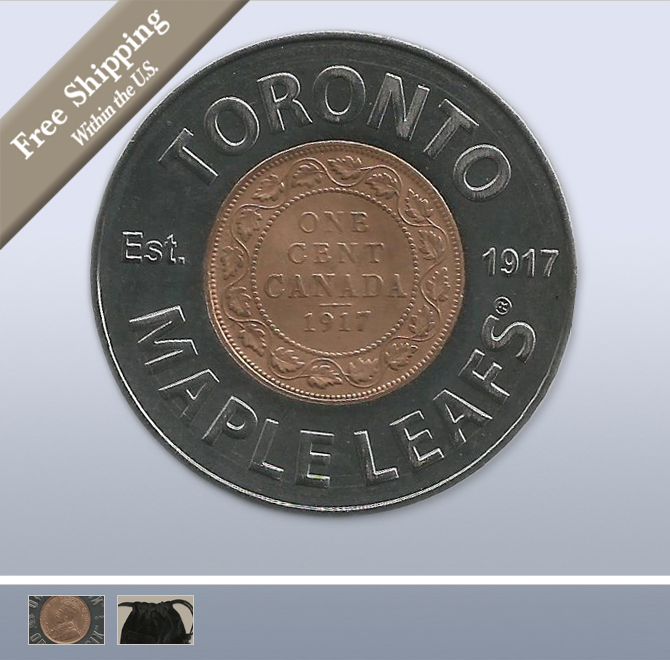 1917 Toronto Maple Leafs Ball Marker
Price Includes Shipping Via the USPS Within the 50 States.
For Expedited or International Shipping Costs Please Email Us at barb@golfspast.com
The Toronto Maple Leafs professional ice hockey team, based in Toronto, Ontario, are members of the Atlantic Division of the Eastern Conference of the National Hockey League (NHL).
The Maple Leafs were founded in 1917, operating simply as Toronto and known then as the Toronto Arenas. Under new ownership, the club was named the Toronto St. Patricks in 1919. In 1927 the club was purchased by Conn Smythe and renamed the Maple Leafs. A member of the "Original Six," the club was one of six NHL teams to have endured through the period of League retrenchment during the Great Depression. The club has won thirteen Stanley Cup championships, second only to the 24 championships of the Montreal Canadiens. The club's history includes two recognized dynasties, from 1947 to 1951; and from 1962 to 1967. Winning their last championship in 1967, the club's 50-season drought between championships is the longest current streak in the NHL.
This stunning ball marker commemorates the Toronto Maple Leafs birth date with an original 1917 Canadian penny and is encased in steel inscribed with the team's name and on the flip side with "Original Six" and the official NHL logo . Each ball marker measures 1 13/16" and comes in a protective, drawstring pouch.
Item: TMLBM
Price: