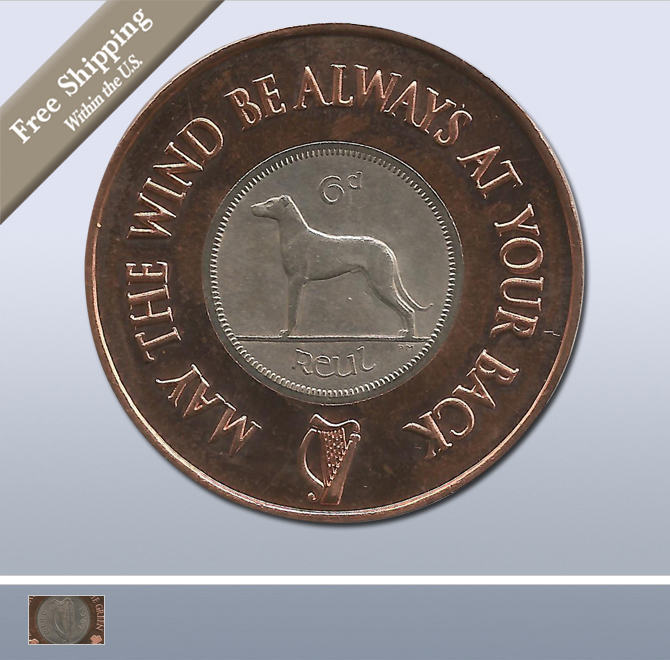 Irish Sixpence Golf Ball Marker
Price Includes Shipping Via the USPS Within the 50 States.
For Expedited or International Shipping Costs Please Email Us at barb@golfspast.com
The sixpence coin was a subdivision of the pre-decimal Irish pound, worth ​1⁄40 of a pound or ​1⁄2 of a shilling. The Irish name - reul - is derived from the Spanish real. For most of the 19th century, 1 pound was equal to 5 U.S. dollars, and 1 dollar was equal to 8 reales, therefore a real was equal to ​1⁄40 of a pound, i.e. 6 pence.
The general design of the coin was by English artist Percy Metcalfe. The obverse featured the Irish harp. From 1938 to 1969 the inscription changed to Éire on the left of the harp and the date on the right. It has been suggested by some that the greyhound depicted is Master McGrath, a famous coursing greyhound raised in County Waterford. Although the frieze of Master McGrath on the Master McGrath monument in Waterford, the only public monument in Ireland to a greyhound, does bear some similarity to Metcalfe's design, there is no evidence to suggest that the animal on the coin is anything other than a generic depiction.
This ball marker features a genuine Irish sixpence coin minted between 1942 - 1969 (specific mint year will vary and cannot be guaranteed) and is encased in copper inscribed with:
May the Wind Be Always at Your Back
May Today Find You on the Green
Each ball marker measures 1 7/16" and comes in a protective, drawstring pouch.
Item: I6PECBM
Price: