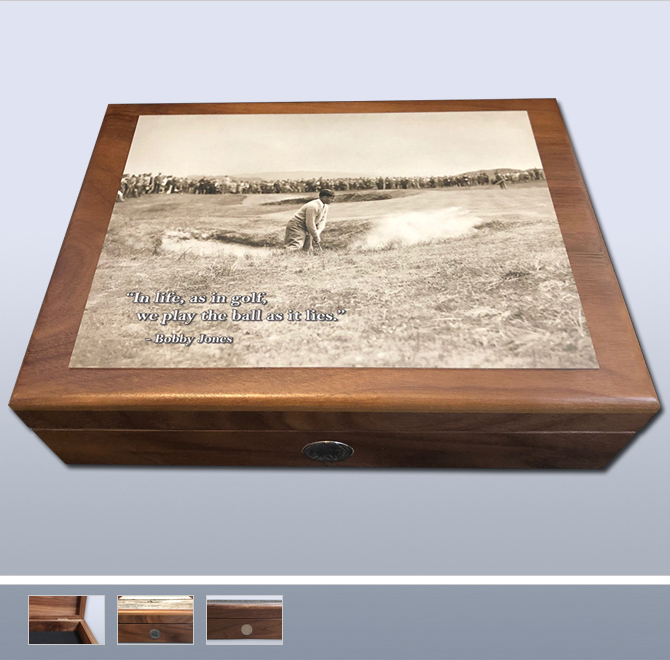 Jones, Bobby - 1930 Commemorative Valet Box
They called him "Emperor Jones", and he dominated the game of golf in his era. He captured 13 major championships in a short eight-year period from 1923 to 1930 including all four in that historic Grand Slam year 1930. Then, at the age of 28 and at the peak of his game, he retired from competitive golf.
Jones was diagnosed with syringomyelia in 1944, a rare and degenerative disease of the central nervous system. Jones would battle the disease for 23 years, first using a cane, then leg braces and finally in a wheelchair. During the final years of his life Jones could not even hold a pen. When Jones was asked about his crippling disease his response spoke volumes about the kind of man he was, "In life, as in golf, we all have to play the ball as it lies."
This handsome walnut valet box is lined and includes Jones' famous quote, "In life, as in golf, we play the ball as it lies" on the lid as well as an image of Jones hitting a sand bunker shot from the par-5 16th at Hoylake during the 1930 Open Championship — the second leg of Jones' memorable Grand Slam campaign. To commemorate Jones 1930 Grand Slam achievement we have placed a 1930 buffalo nickel on the front side of the valet box.

9.5" x 7" x 2.5"
Item: 1930BJQWB
Price: